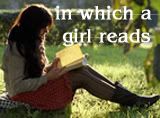 In Which A Girl Reads now has over 400 followers, so Choco is doing an international giveaway!
Requirements:


1.You must be a follower to enter
2. You must fill out the form (there is a link to the form on the original post). Comment entries will not count.
3. If you win, the book you pick has to cost under $20.
The contest ends on March 6th at 11 p.m. EST.